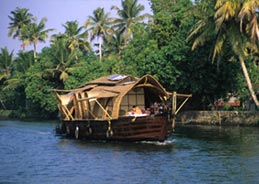 Destinations Covered:
Cochin - Alleppey - Kumarakom - Trivandrum
Tour Package Duration:
9 Nights / 10 Days
Day 01: Cochin
Upon arrive at Cochin you will be transferred to a tropical island to hotel. After some leisure you can watch the dolphins at play. In the evening you can relish the Grilled Masala prawns or pearl spot, vegetables simmered in coconut milk as apart of your dinner. Overnight stay will be at the hotel.
Day 02: Cochin
On the second day of the Kerala houseboat tour you will go for Ayurvedic oil bath followed by Rejuvenation massage. In the evening enjoy Kathakali, the traditional dance form of Kerala. Overnight stay will be at the hotel in Cochin.
Day 03: Alleppey
After breakfast you will travel to Alleppey, the 'Venice of the East' and check into a Heritage Home overlooking the beach. After a brief rest you can stroll along the eternal stretch of pure white sands and loll around the market area. Early in the evening, get decorated with jasmine garlands and hoist yourself gently on to an elephant for a perfect photo before you go for a leisurely short trip on the back of the Great Tusker. You will enjoy the dinner in an open-air restaurant under a moonlit sky midst the fragrance of jasmine and bougainvillea in the Heritage home.
Day 04: Alleppey - Houseboat
After breakfast you will board a houseboat, originally a rice boat or kettuvallam used to carry spices and even families from coast to coast. Here, your own personal crew of three will serve you tender coconut water, sumptuous fresh fish and Kerala-style spicy curries. Sunbathe on deck and let the world punt past you. Enjoy the typical Indian village life as you meander through the palm-fringed lakes and shady cashew nut groves. Overnight onboard the houseboat.
Day 05: Kumarakom
Disembark the houseboat late in the morning and travel to an island resort where you will be marooned in coconut groves and accommodated in a tasteful re-creation of a traditional Kerala village. Get pampered with Ayurvedic hand and foot massage in your own private villa which has a separate sitting area and your very own private swimming pool. Overnight will be at the resort in Kumarakom.
Day 06: Kumarakom
Breakfast follows full day leisure in your retreat with more oil baths, Indian head massage and Rejuvenation massage. Overnight will be at the resort.
Day 07: Trivandrum
It is time now to travel to Trivandrum, your next destination. Upon arrival, chech in at the hotel and later visit the Sri Padmanabhaswamy Temple and the Puthen Maliga, a 200 year old palace of the maharaja of Travancore which took 5000 workers four years to build. In the evening, enjoy your dinner in a rooftop restaurant under the stars. Overnight will be at hotel.
Day 08: Trivandrum
After breakfast you will be driven to, Cape Comorin where the Arabian Sea, the Indian Ocean and the Bay of Bengal converge. Whether it is a sunrise or a sunset, a moonrise or moon set but the tranquil beauty will stay in your memory forever. The waters here are considered sacred by the Hindus and it's believed that it is a good omen to take a holy dip here in the waters. After you trip to Cape Comorin, you will return to Trivandrum. Overnight stay will be at Trivandrum.
Day 09: Trivandrum
It is time now to engage yourself in some shopping for your special mementoes - Indian silk, spices, rare gems, jasmine, orchids. In between you can go for a thali lunch, that's up to a dozen small Kerala dishes, at a famous vegetarian restaurant run by the Brahmins. Dinner will be served at the hotel.
Day 10: Trivandrum Departure
It is time to say goodbye to the experience called Kerala. Our representative will transfer you to airport/railway station for your onward destination.